Location:
Student Center Ballroom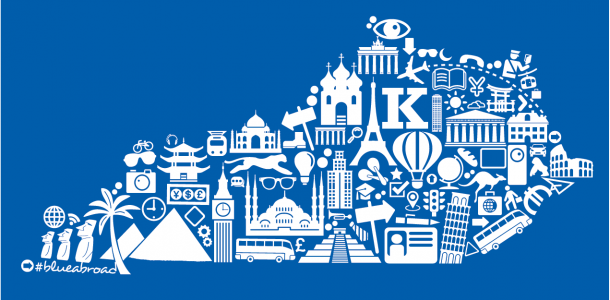 Education Abroad (EA) will hold its annual Fall Fair on Wednesday, September 17 from 10:00 a.m. to 3:00 p.m. in the Student Center Ballroom.
From A to Z, the Education Abroad Fair showcases every international education opportunity available at the University of Kentucky.  Students will find a range of options, including study, intern, research, teach, and service abroad programs.  In addition, campus offices involved in the education abroad planning process, such as Financial Aid, the Stuckert Career Center and others, will be available to answer questions. 
"To meet the diverse academic needs of UK's study body, we have hundreds of programs, each with unique offerings.  So saying 'We have a lot of choices' is a bit of an understatement," explains Seth Riker, Education Abroad Promotion and Outreach Coordinator.  "There's a lot going on at the Fair. It's easy for students to get overwhelmed if they don't know what they're looking for."
Before attending the Fair, it's highly recommended that students examine their Major Advising Page.  
"If students do a little research, they can come to the Fair with purpose and with questions in mind," says Riker.  "After all, it's rare for so many resources to be in one room, so students should make the most of it."
During the Fair, students are encouraged to visit these sponsors:
Faculty and advisors are also encouraged to attend the Education Abroad Fair.  Questions regarding the event may be directed to Education Abroad Promotion and Outreach Coordinator, Seth Riker.
Type of Event (for grouping events):